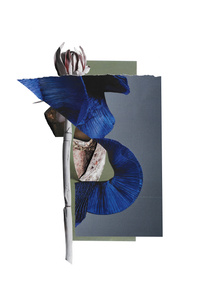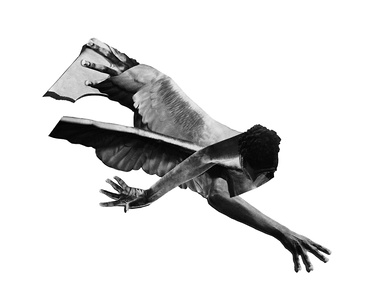 Hands extending forward, backwards, and sideways configure an ambiguous form that floats within an expansive luminous space. Utilizing cut-out photo images collected from sports magazines and National Geographic, "Should oblivion stay," (2022) explores the extraction, collision, and bond of time, place, and identity. Heavily influenced by Afro-futurist themes, the work intends to rupture the colonial and monolithic gaze imposed onto Black communities. As a means towards ancestral healing, "Should oblivion stay," also incited a personal sense of tranquility in its making. A state of being that lends to the intentions of the work existing in simultaneous motion and stillness. To not seek permission to be everything together at the same time. To exist in an intersectional sphere, borders obsolete.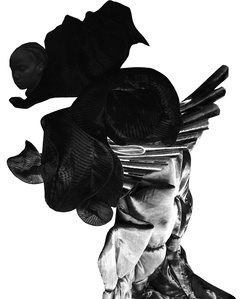 influenced bv Marcel Camus 1959 film Orfeu Negro (also known as Black Orpheus), black orpheus (ii.) centres its' narrative around the rhythm of sound & dance within the film using obstructive and "incomplete" materials and methods of documentation.
ripped ceramics from a vintage Art Nouveau style catalogue merge together with a human figure to form xxxii. also known as Eurydice.